The New Standard In Regenerative Aesthetics
Uniquely traceable, pure & potent, and formulated in labs of the highest scientific caliber. Introducing a new line of advanced biologics, available exclusively from Cartessa Aesthetics.

Chronos advanced biologics products represent the highest quality and potency in regenerative aesthetics. Our products are made in a FDA-compliant, ISO 7, cGMP-certified lab, so you can trust that you're offering a safe solution for your patients.
Advanced Biologics For Timeless Results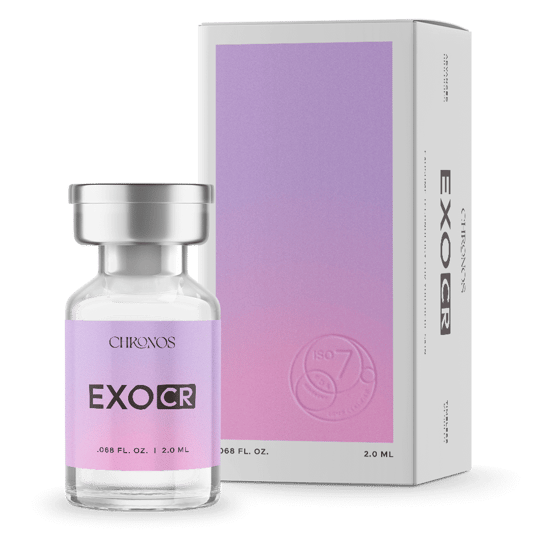 ExoCR, the first product in the Chronos portfolio, is a single-source, non-lyophilized, and highly active biologic product formulated to target dermal fibroblasts.
ExoCR contains 50 billion+ particulates, 10 billion+ intact exosomes, and 1000+ growth factors and cytokines.
Created and purified from Wharton's Jelly, a perinatal tissue source rich in exosomes, regenerative properties, and essential growth factors.
Now open for pre-ordering! Be among the first to offer ExoCR at your practice.
EXOSOMES IN AESTHETICS & NEW CHRONOS EXO CR

Featuring: Crystal Romano and Francisco Silva
Exosomes are the fastest-growing segment of the regenerative aesthetics industry. Over the next decade, the category is projected to grow at a 32% compounded growth rate. However, for as much communication and 'buzz' is out there, so is misinformation and confusion over offerings and what information is crucial to make decisions for your patients. In this webinar, we sit down with the lead scientist behind CHRONOS EXO CR, Cartessa's newest exosome technology, to better understand the science behind exosomes, what questions providers should be asking, and why CHRONOS EXO CR offers the highest level of targeted potency and scientific validation.