Quanta Q-Plus – EVO Series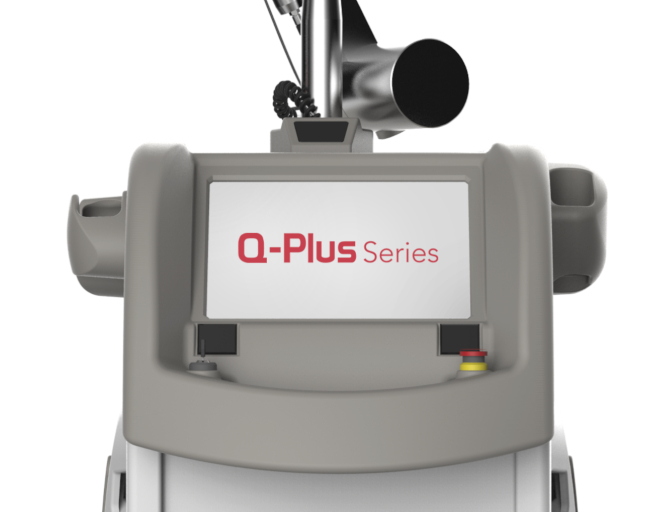 Customizable Q-switch Laser with Multiple Wavelengths

With the Q-Plus – EVO Series, practices can customize Q-switch laser configurations with multiple wavelengths, including Quanta's Ruby laser, the fastest Ruby laser on the market today. The Q-Plus C also features all the benefits of the broader EVO Series lasers — OptiBeam II technology, large spot sizes, fast start up and treatment times, and pre-set parameters.
The Light EVO Series is manufactured by Quanta System Aesthetic Division, an internationally renowned laser innovator.
Cartessa Aesthetics is Quanta System's exclusive U.S. and Canadian aesthetic partner.


Technology that Delivers Results
Individual results and treatments needed may vary.
The Q-Plus Evo Series is the only Q-Switch laser series on the market with an available configuration of 1064nm & 532 nm in both Q-Switched and Long Pulsed Modes. With the option to add a chilled IPL and erbium handpiece, practices can perform a variety of treatments.
Applications of the Q-Plus Laser:
Benign Vascular Lesions
Benign Pigmented Lesions
Wrinkle Treatments
Permanent Hair Reduction
Tattoo Removal
Acne Scars
With both the Q-Switched YAG and Ruby lasers combined to make the Quanta EVO, we're equipped with the technology proven to work best removing any color on all skin tones without scarring.
— Shelley Novello, CLT
We use our Ruby every day at our dermatology practice and Quanta is one of the last manufacturers to offer this technology with multiple wavelengths.
— Anat Lebow, MD
Key Benefits of the Quanta Q-Plus – EVO
A photoacoustic effect targets ink and pigment with no thermal interaction, thus leaving the surrounding skin preserved. These fragmented particles are then removed via the phagocytosis process.
This patented handpiece design provides homogenous high-peak power to optimize efficacy, safety and healing time. The Optibeam II handpieces can generate different flat-top spot shapes at various sizes. The round and square handpieces are indicated for benign pigmented lesions, tattoo removal and wrinkles treatments.
More Wavelengths, More Options
With three true-laser wavelengths (532nm, 694nm, 1064nm) and multiple pulse emission modes, few devices offer the versatility of the Q-Plus EVO. Treat the largest array of tattoo ink colors, including red, yellow, purple, green and blues, even the notorious tough-to-treat light blue, without the cost of disposables or consumables.
Expand your Quanta Q Plus C Laser system with Twain IPL* and/or Er:YAG 2940 handpieces for additional treatment options. The Twain IPL is indicated for permanent hair reduction, dermatological vascular lesions, benign pigmented lesions and Inflammatory acne. Twain 2940 is indicated for skin resurfacing, wrinkles, epidermal nevi, actinis chelitis, keloids, verrucae, skin tags, keratoses, and scar revision, including acne scars.
Discover all the ways the Q-Plus – EVO can help your practice grow.