Skinwave – Multi-dimensional Aqua Delivery System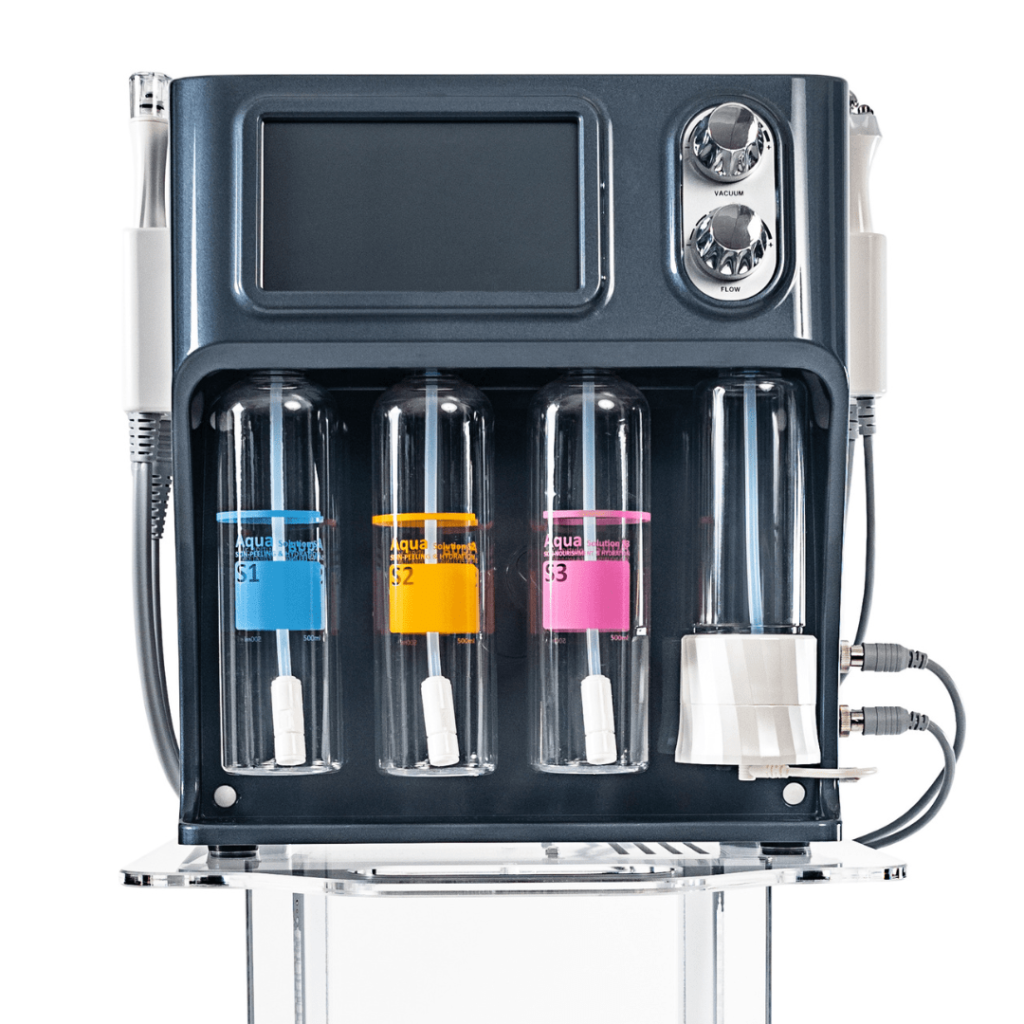 Technology that Delivers Results
Individual results and treatments needed may vary.
The Skinwave combines an aqua-delivery system, skin revitalizing solutions and Hydrogen therapy for a multi-dimensional skincare treatment. This professional skincare machine incorporates solutions rich in Alpha Hydroxy Acid (AHA), Beta Hydroxy Acid (BHA), Natural Moisturizing Factors (NMF), potent plant extracts, and Hydrogen (H2) using hydradermabrasion. Solutions are infused deep into the skin, while gentle extraction removes impurities.
Cartessa Aesthetics teamed up with manufacturer Eunsung Global to exclusively bring Skinwave to the US. Eunsung Global is a South Korea–based global leader focused on innovation in medical aesthetic equipment, present in over 70 countries and 100 partners worldwide.
The Skinwave formulas were developed in partnership with AnteAGE MD®, skincare experts providing regenerative anti-aging products through evidence-based technologies. Trusted by over 1,500 providers and present in 35 coutries, AnteAGE MD® is regularly published in scientific journals, awarded for groundbreaking results, and sought after for their expertise by Fortune 100 healthcare companies.
Applications of the Skinwave:
Skin Revitalization
Tone & Brighten
Cleanse & Exfoliate
Oil & Acne Control
Hydration
This is a game-changer for aestheticians and aesthetic practices. The cost per treatment is low, the treatment only takes 20-30 minutes, and the results are immediate.
— Nicole Simpson, Aesthetician
Skinwave is a great way to brighten your skin, diminish fine lines, and reduce pores. I love this system, I love this facial. I use it on my own face every few weeks!
— Lindsay Sturm, DO
It's the ultimate complement to brighten skin, improve vitality, and tone. Best part? There is zero downtime!...My clients love it!
— Sejal Shah, MD, FAAD
Key Benefits of the Skinwave
Skinwave's aqua-delivery system includes a unique Hydrogen therapy step utilizing water infused with Hydrogen. The high concentration of Hydrogen reacts with active Oxygen in the skin that is linked to drying and aging. The Hydrogen bonds with the Oxygen to form bound water molecules that are then extracted via the radial tips. This unique Skinwave step provides antioxidant and moisturization benefits as well as reduces inflammation.
Skin revitalizing ingredients in, impurities out. Three potent formulas are delivered with Skinwave's unique Aqua-Delivery system to deeply cleanse, exfoliate and nourish.

AWAKEN: Cleanse and exfoliate with Glycolic Acid, Lactic Acid, and Licorice Root Extract to gently exfoliate the skin and dissolve impurities without stripping skin
CLARIFY: Extract and decongest with Willow Bark Extract, Salicylic Acid, and Natural Plant-Derived Enzymes to reduce sebum production, soften dead skin cells, and decongest clogged pores
QUENCH: Hydrate, replenish, and repair with Humectants, Ceramides, and Natural Moisturizing Factors (NMF) to restore the skin barrier and work across multiple layers of the skin, pulling in moisture and locking it in


Multi-Dimensional Experience
Two additional handpieces on the Skinwave round out this multi-dimensional aesthetic treatment. Electrical pulse hand-piece open pores to maximize solution absorption with red and blue LED light for targeted treatments. Double-lifting handpiece activates lymphatic circulation, provides muscle relaxation, skin tightening and lifting effects. These extra steps round out the ultimate Skinwave facial.


Discover All The Ways Skinwave Can Help Your Practice Grow.