Sub-Z – A New Class of Electric Cryo Technology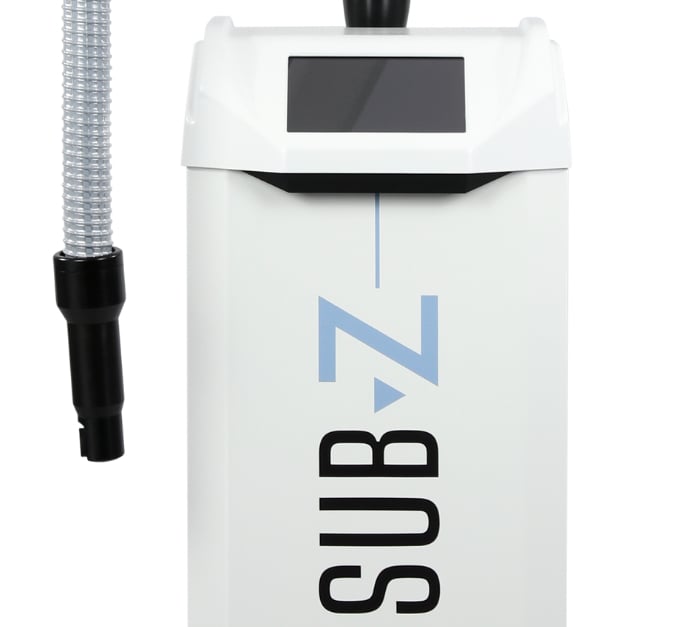 Sub-Z is a new class of electric cryo technology for advanced aesthetic applications that meets the demands of providers…a tank-free, zero consumable option that delivers on efficacy, safety, and speed.
Sub-Z is manufactured by Zimmer MedizinSystems exclusively for Cartessa Aesthetics

Technology that Delivers Results
Sub-Z used Pre & Post CoolPeel® Treatment
<24hrs between each photo
Individual results and treatments needed may vary.
The ideal cryo solution is one that can reach and maintain a precise temperature quickly without the dangers and cost of tank-based cryogen. Therefore, Zimmer, the leading manufacturer in cold therapy technology, engineered Sub-Z to be more powerful and faster without the safety, environmental and cost concerns associated with the use of cryogen gas.Providers can adjust Sub-Z's fan speeds and target precise temperatures to customize and improve patient experiences.
Applications of the Sub-Z:
Minimize pain and thermal injury during laser and dermatological treatments
Temporary topical anesthetic relief for injections
Sub-Z has transformed our patient experience. It eases their mind that their appointment is going to be a pain- and stress-free procedure. It also eliminates the annoying (negative) lingering effects of numbing alternatives.
— Mei Lin Reisin, LME
Sub-Z is an important adjunct in aesthetics in that it improves patient comfort and safety when used with energy based devices and minimizes bruising and swelling with injectables. Patients appreciate Sub-Z and have come to request it during their procedures.
— Raminder 'Minni' Saluja, MD
I flip Sub-Z on every morning and it's on until close each day. We love it!
— Erin Hennessy, ARNP, DNP
Sub-Z is an effective option to improve comfort levels during laser treatments and injections. Patients love the fact that we offer additional support when managing their pain level during medical spa treatments.
— Jeffrey Antimarino, MD
The Sub-Z cryo has made fractional laser and RF treatments much easier and more comfortable for the patients.
— Kenneth Rothaus, MD
Utilizing Sub-Z pre- and post-aesthetic treatments provides several advantages. When used in conjunction with injectables and laser procedures, Sub-Z offers analgesic benefits and may reduce potential side effects like bruising, inflammation and thermal injury.
Desired temperature levels can be dialed-in quickly and precisely to complement a range of aesthetic treatments like the CoolPeel CO2 treatment, tattoo removal, and RF microneedling.
Designed for Power & Speed
As the global leader in cryo technology, Zimmer cooling systems set extraordinary standards for performance, engineering and reliability. Sub-Z offers more electrical power than other office based cooling systems to reach therapeutic temperatures 3x times faster. Low temperatures can be reached and maintained without concerns of overheating the unit.


Environmental, Safety & Cost Benefits
Sub-Z is a tank-free, electric-based technology thus eliminating the need for cryogen tanks that require specific safety protocols and proper ventilation systems. With Sub-Z, there are no environmental trade-offs and no equipment regulations to adhere to. Furthermore, the closed loop cooling system lowers service and maintenance costs and removes consumable expenses.


Discover all the ways Sub-Z can help your practice grow.