Virtue RF –
The World's First RF Microneedling Platform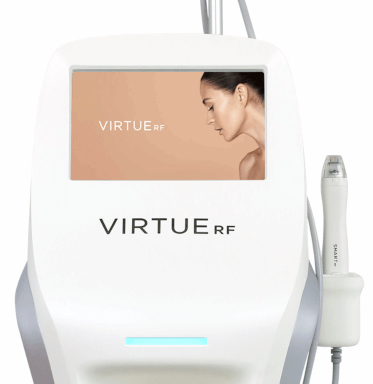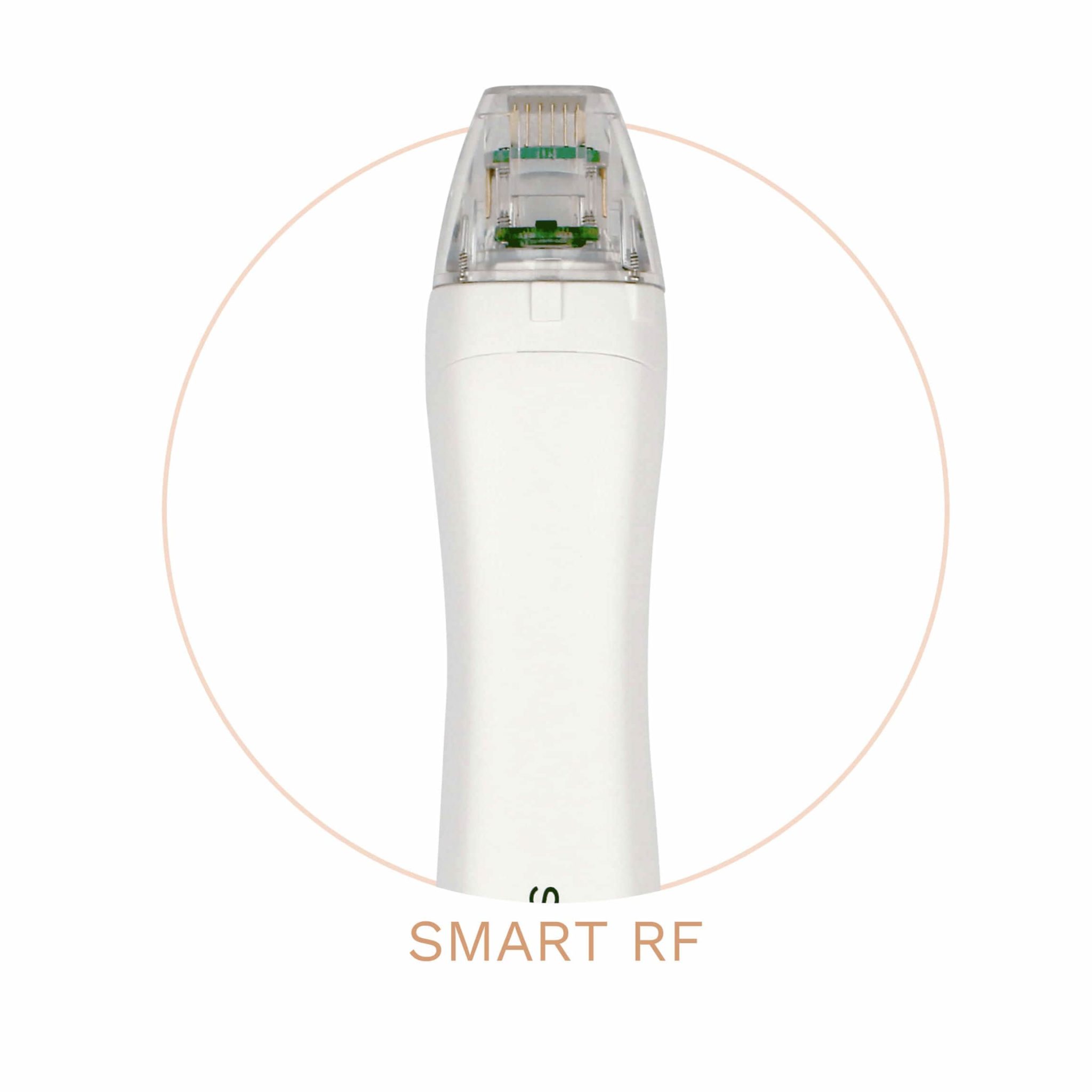 Smart RF
36-needle handpiece for comfortable treatment of face, hands, and decolleté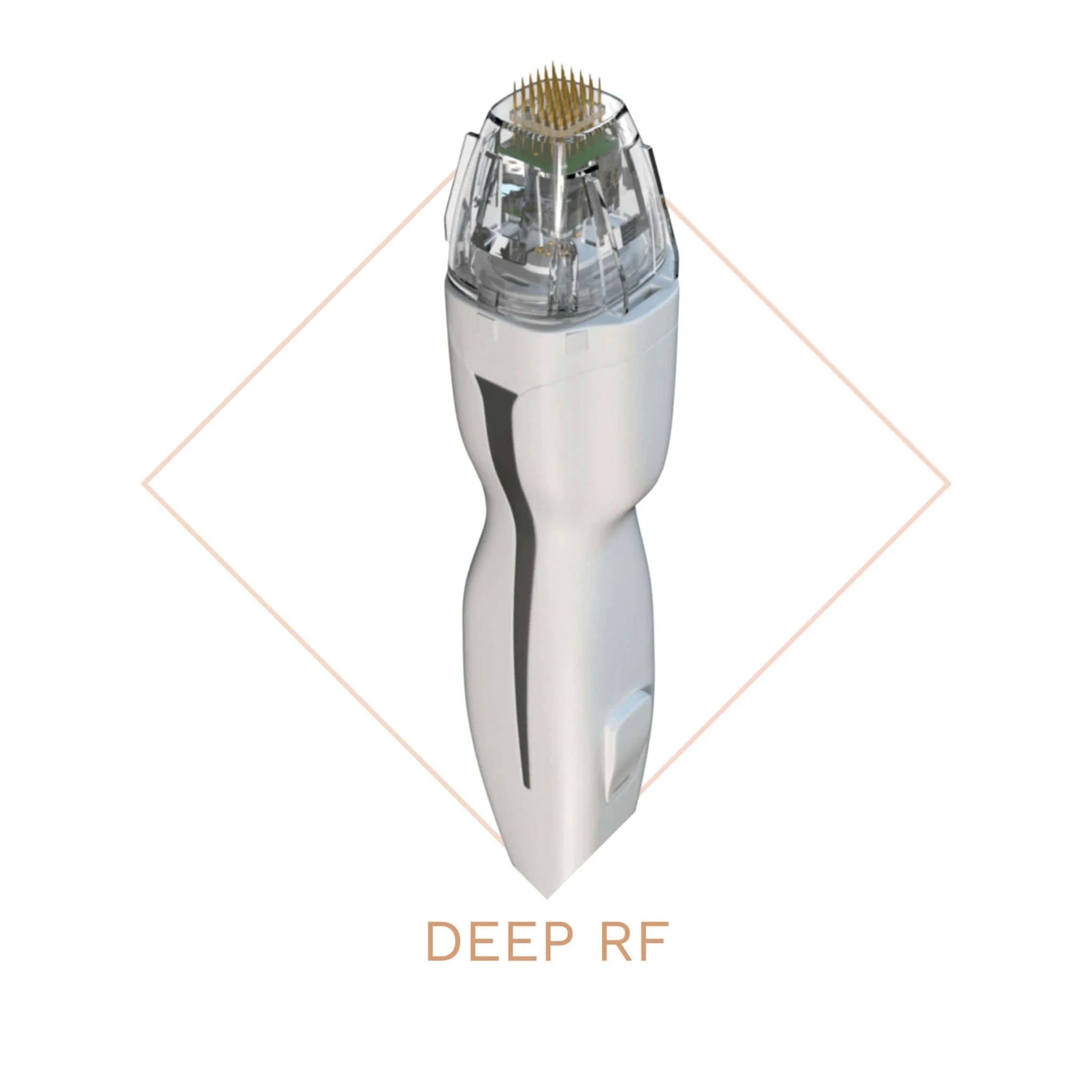 Deep RF
36-needle handpiece with cooling plate for tightening, smoothing, and advanced body treatments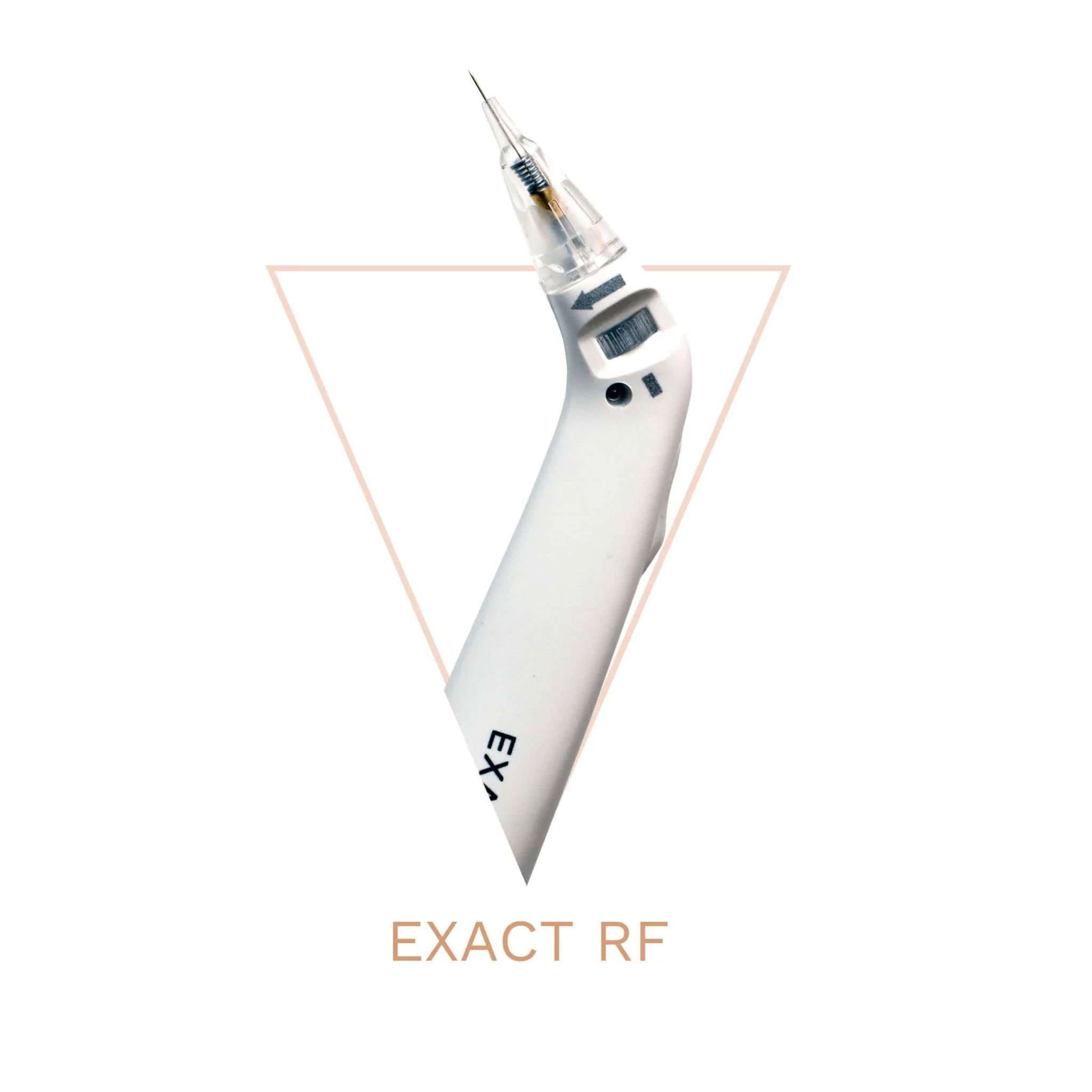 Exact RF
Single-needle handpiece to target around mouth, eyes and jawline with complete precision
RF Microneedling Device With Unmatched Versatility

VirtueRF combines radiofrequency (RF) energy and microneedling technologies to create micro-injuries in the skin and stimulate the natural healing process as collagen, elastin, and fibroblast activity all increase.
The world's first RF microneedling platform, Virtue RF tightens and tones the body, sculpts the jawline, and rejuvinates skin—all while providing unparalleled results and comfort.
With the ability to add multiple handpieces, VirtueRF offers more versatility than other leading RF microneedling products. Designed to maximize patient efficacy, experience and results, it boasts advanced ergonomic, interface, safety, and treatment delivery features.
Why Offer RF Microneedling?
Individual results and treatments needed may vary.
RF microneedling is one of the most in-demand aesthetic treatments, as patients today expect results with limited to no downtime.
VirtueRF offers the utmost precision and sophistication for both provider and patient, tackling a wide range of patient concerns including fine lines and wrinkles; scarring; body treatments; and precise applications for eyebags, festoons and buccal, jawline, and periorbital and submental areas.
With more power, pulse duration, and setting options than any other RF microneedling device, VirtueRF's exclusive RF sub-pulse technology delivers high-energy treatments without sacrificing patient experience.
More energy and versatile settings means more dramatic, tailored results that are evident immediately and only continue to improve with time as neocollagenesis occurs.
A key benefit of VirtueRF is the flawless skin and glow that patients receive. The pore size is minimized and the skin is brighter with improved texture and decreased laxity. VirtueRF is a win every single time.
— Leslie Apgar, MD
The DeepRF allows for deeper tissue remodeling using different energy wavelengths - all while maintaining patient comfort - and has been a game changer for my practice.
— Jordan White, ACNP-S, BSN, RN
VirtueRF represents a new class of RF Microneedling technologies that deliver exceptional results with no downtime and now with more versatility and revenue potential than ever before.
— Gabe Lubin, Cartessa Aesthetics Founder & CEO
I honestly suggest the Virtue to just about every person that walks through my door because it is, hands-down, incredible for everyone.
— Emily Frost, RN, LE, CLT
It doesn't matter time of year or whether my patient is a light or darker skin type, VirtueRF is a treatment for everyone.
— Thomas Griffin, Jr., MD
The microneedling game has been changed.
— Renee Moran Aesthetics
Our VirtueRF Microneedling treatment allows us to give our clients the best possible canvas where we can then either stop with beautiful skin, tone & texture or build onto it.
— Ariya Aesthetics
VirtueRF is a faster treatment and we can put more energy in the patient more safely and more comfortably than previous devices.
— Thomas Griffin, Jr., MD
It was a priority to partner with Cartessa and add VirtueRF because it is the only RF Microneedling platform and we pride ourselves on always offering premium treatments to our patients.
— Alina Sholar, MD
As a provider, this device is incredibly comfortable to use because of its unique ergonomic design.
— Joshua Davis, RN, BSN
Key Benefits of Virtue RF
Best-in-Class Experience, Optimal Results
From robotic precision delivery (RPD) to the exclusive post-treatment protocol, the comfort, experience, and results your patients can expect from VirtueRF microneedling are unmatched.
SmartRF and DeepRF 36 gold-coated needles deliver a controlled, smooth experience with exclusive robotic precision delivery (RPD). This feature prioritizes patient comfort while administering radiofrequency energy at the desired depth, adjustable into sub-pulses without diminishing total energy delivered to the skin.
The reusable cooling plate further ensures patient comfort, available when delivering maximum energy to the body with DeepRF.
With the ExactRF handpiece, providers can do more to treat areas that demand absolute precision, such as the periorbital area, eyebags, festoons, as well as the buccal, jawline and submental regions.
Lastly, only VirtueRF pairs every treatment with the most innovative post-care, developed by leading skincare manufacturers to soothe skin and eliminate redness.
Versatile Treatment Options & ROI
VirtueRF can address an exponential range of skin types, face, and body areas.
FDA-cleared for use with 0.5MHz, 1MHz and 2MHz, it is the only device with RF sub-pulse technology—enabling providers to fine-tune energy distribution for the safest, most effective, tailored treatments for the full spectrum of skin pigments and conditions. Focus on preventative procedures to build collagen for younger patients, or target laxity and deeper wrinkles for aging individuals.
Simply put, more patients mean more revenue for your practice. VirtueRF's world-class treatment options create a premier revenue opportunity for any aesthetic businesses.
SmartRF and DeepRF handpieces can be controlled via hand trigger or foot pedal and set to either manual or two available auto-modes, which cut treatment times by up to 30%.
VirtueRF's safety features prevent misfiring and contamination with on-screen tip configuration confirmation, RF identification codes embedded in all authorized tips, and tip cartridge covers.
Revolutionary Design for Maximum Comfort
This RF microneedling machine boasts elevated design details, including the three unique handpieces, a lower profile, longer cords and an ergonomic arm to distribute weight evenly for maximum comfort and mobility.
Learn More About Virtue RF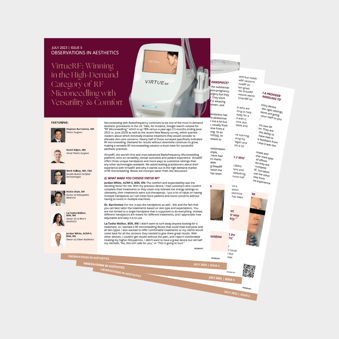 VirtueRF: Winning in the High-Demand Category of RF Microneedling with Versatility & Comfort
Observations in Aesthetics Roundtable
Leading practitioners share their experiences with VirtueRF and why it stands out in the high-demand market of RF Microneedling.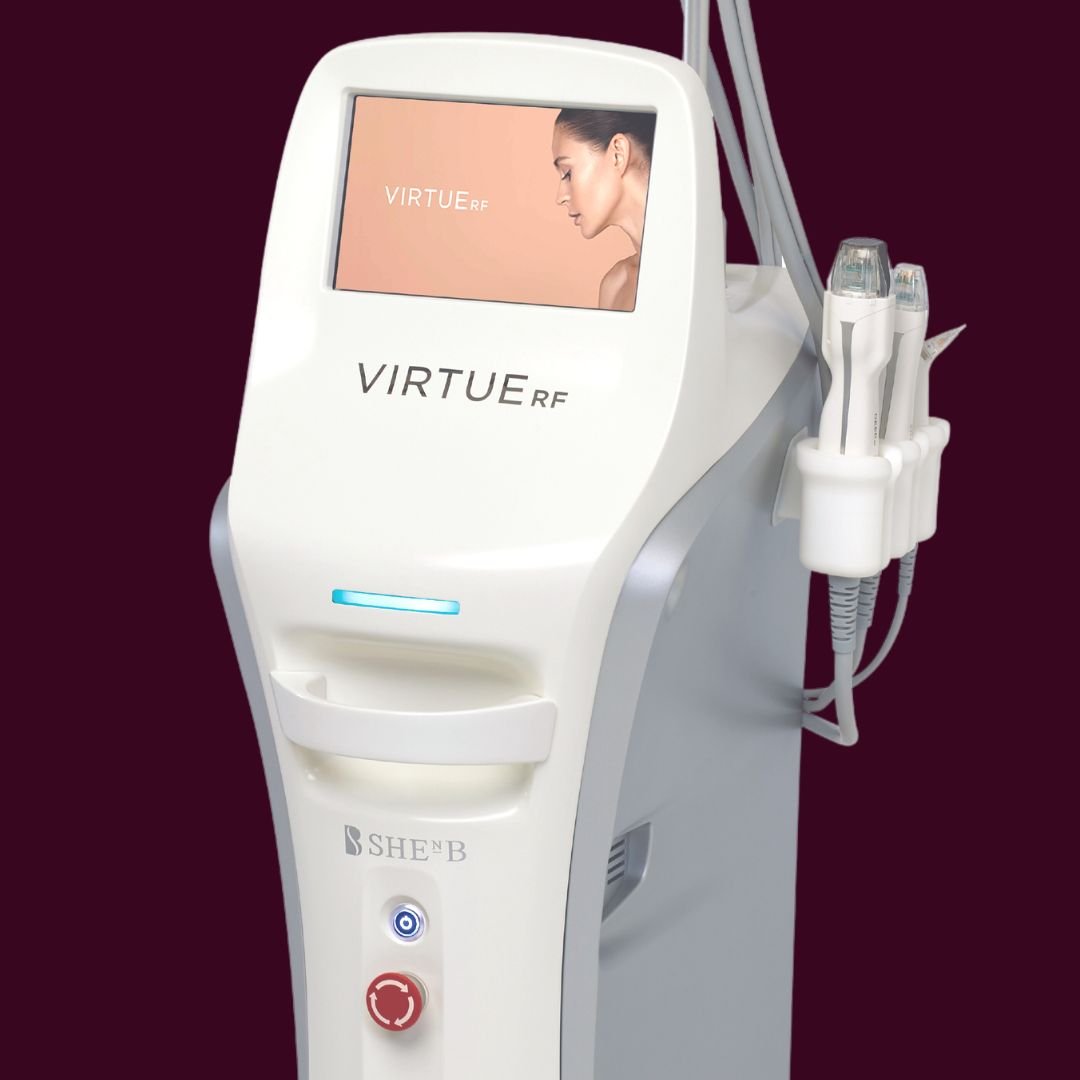 Watch Our Featured Webinar
Join us for an in-depth discussion about why VirtueRF stands out in the high demand market of RF Microneedling. Experts will review the features behind VirtueRF's differentiated and comfortable patient experience and explore impactful combination therapies that further enhance results and maximize practice ROI.
Discover all the ways Virtue RF can help your practice grow.