Cartessa Aesthetics Introduces Helix by DEKA, a Powerful Fusion of Skin Resurfacing Technology
In the growing category of non-invasive, energy-based aesthetic procedures, laser skin resurfacing occupies one of the largest shares. Laser resurfacing is an effective way to reduce the appearance of fine lines, wrinkles, scars, unwanted pigment, and improve skin's tone and texture. Cartessa Aesthetics and its manufacturing partner, DEKA, have been at the forefront of skin resurfacing innovation in North America and today introduces the newest resurfacing innovation HELIX – advanced fractional ablative CO2 and non-ablative technologies in one device.
HELIX features the innovations that have made DEKA's TETRA CO2 the market leader in North America – including exclusive pulse shape control that makes the award-winning CoolPeel™ treatment possible – and adds a 1570nm fiber laser to use alone or in combination. Helix boasts 70 watts of power and the widest variety of low-downtime treatment options with seven mixed sequential and alternating modes, enabling providers to expertly tailor ablative and non-ablative resurfacing treatments.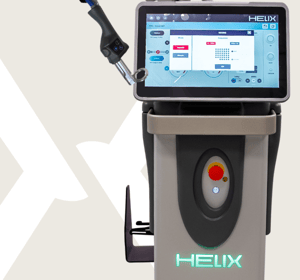 DEKA is a worldwide leading manufacturer of laser technology. Cartessa has partnered with DEKA to bring paradigm shifting technologies like the Motus series for pain-free laser hair removal safe for all skin types, and the award-winning Smartxide Tetra CoolPeel to the market in North America.
El.En.'s General Manager and DEKA CEO Paolo Salvadeo shared, "Helix represents the next evolution of DEKA and Cartessa's partnership and leverages our sophisticated laser technology to create important and extremely effective devices for the US market."
Cartessa's Founder and CEO, Gabe Lubin echoes Salvadeo's sentiments; "Helix is another example of our unique partnership that brings world-class laser technology together with Cartessa's keen insight into provider and patient needs. Cartessa worked closely on the Helix design and developed marketable treatment protocols like we did with CoolPeel to help drive demand for our customers." The US is the first market to make HELIX commercially available.
Helix delivers an optimal patient experience with three branded protocols: CoolPeel, Sultra, and unique combination resurfacing treatment Fusion.
CoolPeel: DEKA's high-peak-power H-Pulse delivers a no-downtime, advanced fractional CO2 ablation with minimal damage to surrounding tissue and without side effects seen with traditional methods.
Sultra: Exclusive to Helix, this non-ablative 1570nm fractional laser gently denatures tissue by targeting water, leaving behind a smooth, youthful complexion in all skin types.
Fusion: By mixing both fractional ablative and non-ablative energy in single-scan sequential and alternate modes, Fusion vaporizes and coagulates tissues in as little as 5-minute treatment sessions for enhanced results and minimized healing time. Only Helix's Fusion can combine three CO2 pulse shapes with non-ablative in variable mixed modes and depths for exceptional skin resurfacing customization.
With these protocols, Helix delivers unparalleled tailored treatment options for the widest variety of skin types, pigments, and conditions, including scarring, wrinkles, fine lines, and more. Feedback from early users has been phenomenal.
Dr. Mark Halsey, owner and lead physician at Halsey Dermatology in Sag Harbor, NY states, "The Helix is a skin resurfacing dream. I can now mix ablative and non-ablative modalities for extraordinary results, fast, on one efficient platform, and with less downtime than ever before."
Cartessa Aesthetics is the exclusive distributor of Helix in the United States. To learn more about Helix, visit CartessaAesthetics.com/Helix or contact your local Cartessa representative.