Qualities of the Best RF Microneedling Devices
RF microneedling delivers the results of traditional elective surgeries without all the swelling, bruising, downtime, and other byproducts.
This painless aesthetic treatment stimulates new skin growth by creating controlled micro-injuries that trigger the body's natural healing response—and its efficacy and ease of use are only making it more and more popular.
If you're exploring adding RF microneedling to your practice or upgrading a device but unsure of which is best for you, this explainer outlines the basics of the technology, qualities of the best devices, and much more to help you decide!
What to Look for When Choosing the Best RF Microneedling Devices
The key to harnessing the industry-leading benefits of RF microneedling technology in your practice lies in selecting the right device.
How to know which is the right one?
Ensure the devices you're considering include the following features and benefits. While few on the market possess all of these, it's important to figure out which combination works best for your needs and price point.
Among these:
Versatile Treatment Options
RF microneedling devices should address the full spectrum of skin pigments, types, conditions, and areas.
The technology minimizes fine lines and wrinkles, and improves the look of acne scarring. It precisely targets festoons and the buccal, jawline, eyebags, and periorbital and submental regions.
FDA-cleared for use with 0.5MHz, 1MHz and 2MHz, leading platform VirtueRF offers multiple handpieces for more versatility than any other leading RF microneedling product.
These include:
Smart RF: This 36-needle handpiece treats face, hands, and decolleté with comfort.
Deep RF: This 36-needle handpiece tightens and smooths in advanced body treatments, with a soothing cooling plate.
Exact RF: This single-needle handpiece provides precision targeting around delicate areas such as the mouth, eyes, and jawline.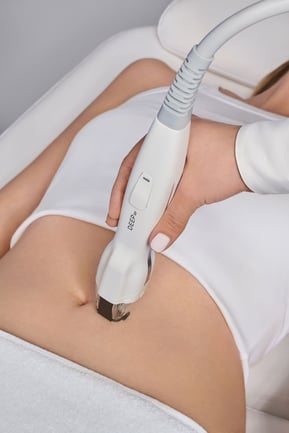 Patient Comfort
While these procedures are far less invasive than traditional methods, many devices still cause patients pain.
To maximize comfort, consider a combination of Robotic Precision Delivery (RPD), Sub-Pulse Technology, and cooling plates.
Here's a brief rundown of each:
RPD delivers a controlled, smooth needle delivery with less damage to the surface of the skin and complete patient comfort.
RF Sub-Pulse Technology enables providers to fine-tune energy distribution at desired depths for tailored treatments without diminishing total output or comfort. Devices with an ergonomic arm evenly distribute weight and pressure.
Reusable cooling plate is available for use with the DeepRF when delivering maximum energy for added patient comfort.
Efficiency
Handpieces provide tailored precision and cut traditional treatment times by up to 30%—enabling providers to schedule more appointments.
VirtueRF's unique SmartRF and DeepRF handpieces are controllable by hand trigger or foot pedal, and can be set to either manual or two auto-modes to maximize productivity and streamline efficiencies.
Safety
Proactive safety features such as on-screen tip configuration confirmation, tip cartridge covers, and embedded RF identification codes prevent issues such as misfiring and contamination.
Consistent Results
Such versatility and cutting-edge capabilities produce consistent results, while prioritizing patient experiences.
With less recovery downtime and lower costs than elective surgeries, RF microneedling delivers stunning treatments with tailored precision, every time.
About VirtueRF: The World's First RF Microneedling Platform
VirtueRF boasts all the aforementioned qualities and more—for dramatic results and best-in-class experiences.
These include:
Versatility: Virtue RF's unique handpieces feature unmatched versatility via a diverse range of settings, capable of treating a wide spectrum of skin types, pigments, conditions, and areas.
Comfort: A combination of Robotic Precision Delivery (RPD), Sub-Pulse Technology, and cooling plates ensures maximum patient comfort.
Efficiency: Set to one of two auto-modes, VirtueRF's SmartRF and DeepRF handpieces cut treatment times by up to 30%.
Safety: VirtueRF prevents misfiring and contamination with on-screen tip configuration confirmation, tip cartridge covers, and embedded RF identification.
Consistency: The industry-leading device is trusted by leading aesthetics providers for consistent, striking results, every time.
VirtueRF's unique handpieces provide more versatility than any other RF microneedling device on the market—delivering unparalleled patient comfort and outcomes, and revolutionizing aesthetic treatments.
The key to transforming your practice with the best in RF microneedling? Put your trust in an industry-leading technology with best-in-class experiences and results that last.
---
Cartessa Aesthetics provides end-to-end fulfillment to help leading providers deliver safe, stunning results, with cutting-edge technology. To learn more about enhancing your practice with VirtueRF microneedling, contact us today.