Plasma, What You Need to Know.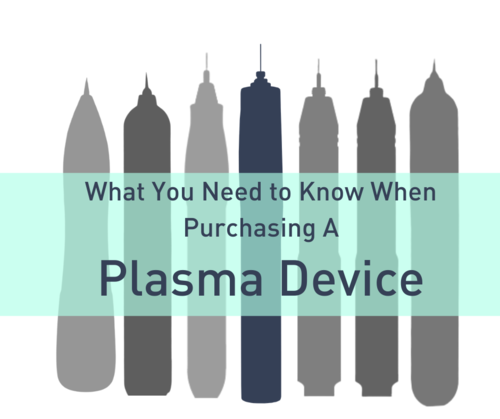 Plasma treatments seem to be taking the aesthetic community by storm providing both patients and providers with a solution for common patient concerns and a non-invasive alternative to invasive, surgical correction. For those providers looking to jump on the plasma trend sooner than later, here's what you need to know:
What is Plasma?
Plasma is a positively charged ionized gas that can conduct electricity and enable electrostatic interactions. When used in aesthetics, about 1mm away from the skin, oxygen and nitrogen are mixed to emit an arch of plasma which discharges onto the skin. The plasma heats the epidermal tissue thus stimulating fibroblast growth factors and the production of collagen, elastin, and hyaluronic acid.
What are the benefits of plasma?
No one likes significant downtime yet everyone loves results, which is why providers and patients are turning to plasma as an alternative to invasive procedures. Plasma can be used in conjunction with other aesthetic treatments to target the more stubborn areas like those around the eyes and mouth. One can precisely place heat to generate fantastic results and manage the extent of the downtime. And another reason plasma is exciting – it's new. Today's patients are more likely to inquire about new procedures thanks to social media platforms and influencers, but it's important that they are educated that there is a difference between the devices that are out there.
Not All Plasma is The Same
Regardless of what you have heard, not all plasma is the same. Harnessing the energy necessary to induce fibroblast activity is not simple and plasma devices deliver energy in different wavelengths and power. For instance, over 80% of plasma "pens" on the market emit energy in a single sine wave. The single sine wave rapidly heats and instantly vaporizes the epidermal tissue but can leave lingering heat that can go deeper into the dermis. Without controlling the heat, there is increased risk of hyperpigmentation and unnecessary downtime. Cheaply made pens being offered to the masses are leading to inconsistent, unpredictable, and painful treatments. For example, in an interview conducted by realself.com,Santa Rosa Beach, Florida, board-certified otolarygngologist Dr. Steven Weiner shared "The plasma pen lacks any control… the spot size, pulse duration, density, and depth are highly variable and are completely up to the user." A plasma device must be of the highest quality to remove any variability.
Controlled Heat Delivers Better Outcomes
Therefore, when choosing a handheld plasma device, its important to understand the delivery system. For instance, Subnovii is the first device with LF technology- low frequency plus a patented pulsed wavelength and power combination. Rather than a single sine wave, Subnovii modulates between two waves to precisely target the epidermis without overheating the underlying tissue. The heat delivered is controlled and consistent. Subnovii treatments are therefore more precise, outcomes more predictable, and healing time is reduced. This very cool video of Subnovii treating a delicate egg yolk shows just how controlled the emission is as only the thin surface is affected and the yolk stays intact!
Developed through rigorous testing and after six years of proven applications, technique, and results worldwide, Subnovii is the most advanced plasma device on the market.
Consider The Company Behind the Device
Plasma can be a high-demand, high profit option for your practice therefore, the support you receive should be high-touch. You should know the answers to these important questions; What type of training are you being offered? What marketing support is available? Is there a post care regimen? Cartessa hand-selected the Subnovii plasma technology out of many available worldwide because of the clinically proven results, better patient experience, and sophisticated design. This coupled with training, comprehensive marketing support, and a uniquely formulated experience kit for each and every patient, Cartessa is committed to making Subnovii a successful investment for every practice. In fact, a positive return can be achieved in roughly 8-10 patients.
To be one of the first in your area to offer Subnovii Advanced Plasma visit cartessaaesthetics.com.
See what your missing: https://www.instagram.com/subnovii/
"I have been stalking this device for months now and we are so excited to be able to see what this baby can do!! The before and after pics are impressive!" – Laura Currence Holden, MSN., FNP-C
"Small areas can be treated in about 20 minutes and the results are fantastic. And you can carry the pen in your lab coat! Amazing!" – Carey Nease, MD. FACS
"I have not found anything similar which can easily and precisely target lesions without leaving pigmentary or texture changes after treatment. It has become a staple in my practice."- Thomas Griffin Jr., MD