We're Celebrating DenaVe for Rosacea Awareness Month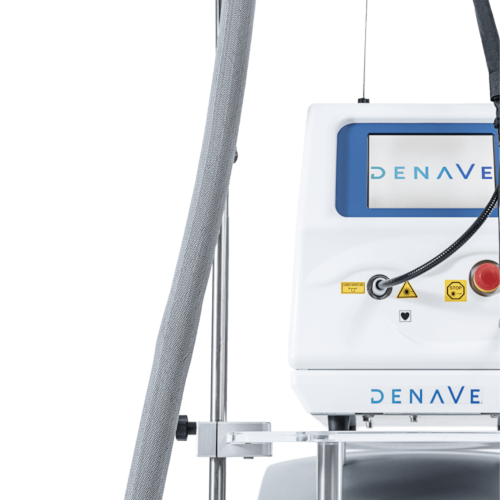 April is Rosacea Awareness month, and this month we want to share why providers are loving the new gold standard for vascular laser technology – DenaVe.
DenaVe, a fiber optic laser for the treatment of vascular and pigmented lesions is changing how providers and patients are viewing the traditionally troublesome tasks of eliminating unwanted vascularities and reducing the effects of rosacea. DenaVe offers benefits to both provider and patient, as its advanced technology allows for fast, low-risk and cost-effective treatments.
"Over the last 20 years, the gold-standard for vascular treatments has been the pulsed-dye laser," Dr. Nazanin Saedi, a board-certified dermatologist specializing in dermatologic surgery and cosmetic dermatology in Philadelphia says. "But the pulsed-dye laser has its limitations, including side effects for the patient and predictability and maintenance issues for the practitioner." Dr. Saedi noticed specific differences in using the DenaVe almost immediately. "We are seeing excellent, durable results from well-tolerated treatments with DenaVe. The 585 nm wavelength is excellent for vasculature with less effect on the melanin. The device is easy to use and versatile making it a great addition to my practice and for my patients."
A New Gold Standard
Before DenaVe, 585nm pulsed dye lasers were the gold standard for vascular dermatological treatments. Although efficacious, 585nm pulsed-dye lasers pose a laundry list of problems for providers. For example, large cost of ownership (average operating costs can be up to $15,000 per year) and high risks of side effects such as purpura, swelling and PIH are enough for a practice to understandably turn away from offering these treatments. For the more than 16 million Americans and 415 million individuals worldwide with rosacea, options had been less than ideal.
The DenaVe delivers differently
The DenaVe is the first compact laser to produce true 585nm in continuous or pulsed modes via a fiberoptic cable. The DenaVe can deliver the ideal wavelength, fluences and pulse width to maximize vessel clearance. By utilizing fiberoptic technology, known for its resiliency, there is no loss in efficacy over time – the 10,000th shot is just as strong as the 1st shot – thus eliminating maintenance issues. Lastly, treatments can be tailored to meet the needs of each patient, by use of the advanced scanner design – the first ever in vascular technology – EliteScan. EliteScan offers adjustable area size, selectable filling mode, and has unmatched precision- eliminating unwanted heat to areas that are not being treated thus reducing unnecessary side effects and downtime.
A Better Business Model for Your Practice
We understand that a device must not only be clinically ethical, but also advantageous for your business. This was one of the key reasons that Cartessa chose to add DenaVe to its portfolio. With no consumables or cost of ownership, DenaVe minimizes the overall invest and the burden that many providers face when choosing to take on a new modality.
"Having a high performing vascular laser is crucial to my practice. However, the high costs of maintenance made the KTP/YAG device financially difficult to justify" shares Dr. Thomas Griffin Jr., Dermatologist based in Plymouth Meeting, PA. "With the gold standard 585nm wavelength matched with a design aimed to eliminate service costs, Cartessa's DenaVe has solved this problem for my practice. It has now replaced the KTP/YAG as my practice's vascular laser."
DenaVe's gold standard wavelength, unique features and low cost of ownership coupled with the boutique-like support that comes when partnering with Cartessa Aesthetics, makes it the best device in its class. Celebrate National Rosacea Awareness month by learning more about the best option for your patients. Contact your local Cartessa Agent today!