Cartessa's Record Breaking Fourth Quarter Sets High Expectations for 2021
MELVILLE, N.Y., PRWEB | January 14, 2021
As Cartessa Aesthetics enters into its fifth year in business, it has shown the resilience of its business model in sourcing, distributing, supporting, and marketing state-of-the-art aesthetic solutions. Cartessa's unique approach allows them to hand-select breakthrough technologies from leading manufacturers across the globe. Their premier product portfolio, industry knowledge, and customer service have quickly made them a formidable force in the aesthetic laser industry.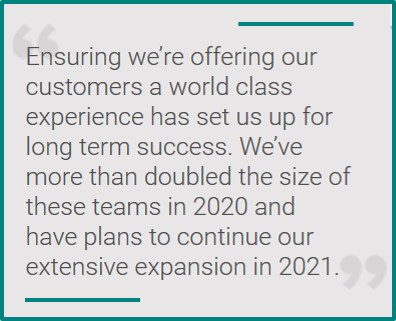 Cartessa founder and CEO Gabe Lubin recognizes 2020's challenges and points to the comprehensive support the company offers as a key success factor. "Our selection criteria coupled with the training, marketing, post-sale support and servicing departments, makes us unique in the industry. Ensuring we're offering our customers a world class experience has set us up for long term success. We've more than doubled the size of these teams in 2020 and have plans to continue our extensive expansion in 2021."
The continuous introduction of new, value-add products is central to Cartessa's mission and success. In 2021, the company will bring to market four new FDA-cleared products starting with Physiq, a multi-modality body device that offers physicians and patients a comprehensive, non-invasive treatment. "The non-invasive body space represents a huge opportunity for us. It's a fast growing market that we are excited to participate in. We think providers will in short time see the strong value proposition it offers to their practice and their patients," says Lubin.
Cartessa is committed to aggressive distribution and marketing expansion to support its continued growth in 2021. "We are looking for top-notch sales professionals across the US and Canada to meet the demands for our legacy and new products," shared Chief Commercial Officer Chris Aronson. "Cartessa offers aesthetic providers and employees something I haven't seen in my 17 years in the industry. It's an exciting place to be and 2021 is shaping up to be another monumental year."
About Cartessa Aesthetics, LLC
Cartessa Aesthetics, LLC sources leading aesthetic medical devices for distribution to dermatologists, plastic surgeons, cosmetic physicians, and medical spas.
Cartessa selects the most cutting-edge technologies that offer clinically proven efficacy, patient safety, and the best possible investment for patients and professionals. Cartessa is the exclusive US and Canadian partner for Quanta Systems. The company's portfolio also includes VirtueRF and PHYSIQ, Motus AX & Motus AY, Tetra CO2 with CoolPeel, and Luxea (all manufactured by DEKA) as well as Subnovii Advanced Plasma Technology and Skinwave.
For more information visit: https://www.cartessaaesthetics.com or email the company at info@cartessaaesthetics.com.