MASKNE IS REAL – This is what your patients should know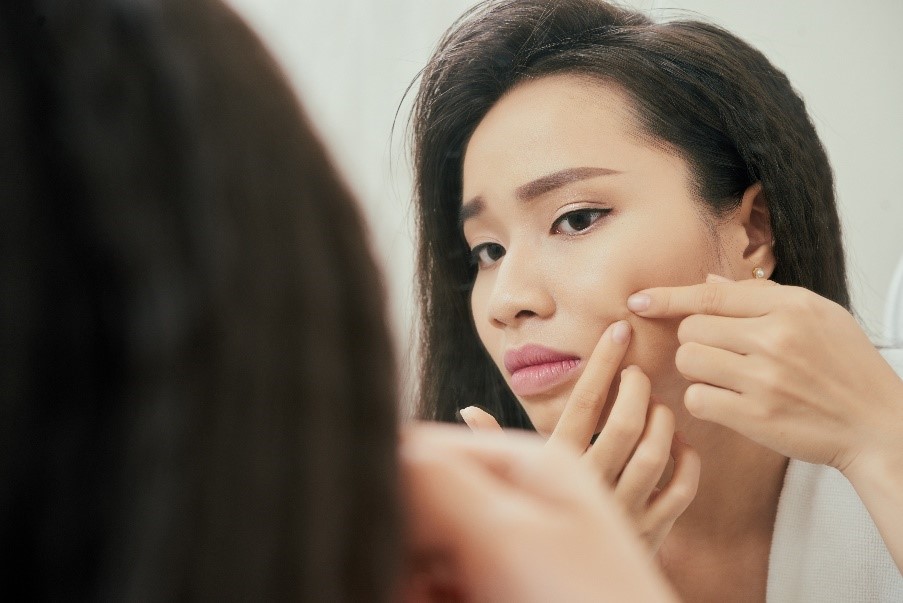 Okay- lets be real, 2020 has been a rough one… for us, our families and our skin. If you're like many skincare clinicians, you've probably seen a spike in the number of patients walking through your doors with concerns of acne or what's now been termed "maskne" in particular. "Conversations about acne have hit a record high in my practice and in my direct message box on Instagram" Dr. Whitney Bowe, Manhattan Dermatologists, told NY Times. With no end to mask-wearing in sight, educating your patients about the impact to their skin and how to control breakouts it is crucial. Here is what the aesthetic community suggests you do:
Educate them on their risk:
Dr. Anna Lien-Lun Chien was featured in an article published by John Hopkins Medicine stating, "people might be more likely to experience face-mask-related bumps and rashes if they're already living with skin issues". Those who suffer from acne, rosacea, eczema, allergies, and have sensitive or dry skin in general are more likely to experience a mask-related breakout. Those with allergies or skin sensitivities should also ensure that they are not allergic to the materials that their mask is made of. "Some commercial face masks are pre-treated with formaldehyde to disinfect them. Also, synthetic fabrics are an issue for some people. Likewise, laundering washable masks with heavily scented detergents or softeners can cause itching, redness or rashes" notes Dr. Chien. It's best to suggest that patients stick with a clean cotton mask and have some recommended examples on hand
Give them the tools to prevent a breakout:
There are many things that can be done to prevent maskne. First and foremost, it is crucial that only clean reusable/disposable masks are worn. Wearing a used mask can allow bacteria to linger. This in turn can cause cystic breakouts and inflammation. "Friction and irritation can push bacteria into the skin, creating micro-tears which allow easier entry for bacteria and dirt, and can lead to inflammation which drives the acne process," Tiffany J. Libby, MD told InStyle Magazine in a recent article. Additionally, it is important that patients are conscious of their skincare habits during this time. Are they washing their face before and after wearing a mask? Do they wear unnecessary layers of makeup beneath their masks? Are they touching their face frequently? These are all contributing factors that may be causing 'maskne'.
Treating Maskne
Maskne can be treated much like regular acne. Dr. Sandra Lee, aka. Dr. Pimple Popper, suggests using resurfacing wipes to keep skin (especially the areas underneath your mask) free from excess oil. Dr. Lee further recommends products containing both glycolic and salicylic acid to prevent future occurrences of maskne. "Salicylic acid is great because it settles down within your pores, and keeps your pores clear of dirt, debris, and oil" says Dr. Lee. Beyond skincare, in-office treatments are a great option to offer patients. For example, the Skinwave– exclusive to Cartessa Aesthetics- provides a deep cleansing facial treatment that uses high concentrations of glycolic, lactic, and salicylic acid- the perfect team to fight against oil and build up. Skinwave also incorporates hydrogen therapy and hyaluronic acid to soothe and quench the skin and LED light therapy. Treatments like Skinwave gently exfoliate and infuse the skin with beneficial ingredients. Both are important to combating maskne.
Become their maskne one-stop-shop
Given the rise in concerns and demand for maskne solutions, now is the perfect time to think about those products and packages that will be most useful to your clientele. Here are some ideas:
Discounts on Skinwave packages or better yet, offer a free Skinwave treatment with the purchase of other treatment packages like a CoolPeel CO2 treatment or RF Microneedling. Providing more value versus just discounts gives your patients a chance to experience something new and shows you are giving them what their skin needs now.
Create specific skincare regimens to combat maskne and offer them for sale in your office.
Have a cotton mask you love? Find any useful items on Etsy you believe in (hello mask lanyards)? Have these recommendations ready or take it one step further and contact the manufacturer to explore selling them directly in your office.
Patients will look to you to demystify all the chatter about maskne and what they should be doing. It's important for you to be having those conversations and providing those insights whether it be via emails, Instagram posts and videos or proactively reaching out to see how your patients skin is holding up.
To learn more about the technologies you can offer to prevent acne and treat acne scarring as well as more ideas to benefit your practice today, contact your Cartessa Agent.