Sona Dermatology Introduces Pain-free Hair Removal with the Motus AY
CHARLOTTE, N.C. (PRWEB) | October 21, 2021
Sona Dermatology is rolling out a new device for laser hair removal across eighteen locations spanning Texas, Virginia, North Carolina and Maryland. The new technology, Motus AY, is the first in-motion alexandrite laser that reduces hair growth painlessly and safely for more skin types. Sona is partnering with Cartessa Aesthetics, the aesthetic company behind the DEKA-manufactured breakthrough technology, to introduce Motus AY and its many benefits to their patients.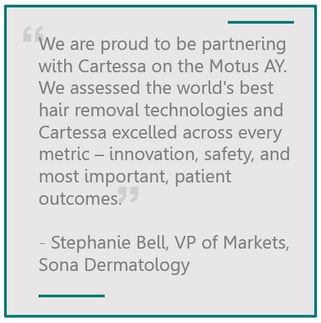 Sona Dermatology has been the pioneer in clinical-led dermatology, cosmetic treatments, and luxury experiences since its inception almost four decades ago. When evaluating new services, Sona looks for the most advanced technologies to offer the best services to their patients, focusing on clinical outcomes and comfort level. Laser hair removal is one of the most popular services at Sona; they turned to Cartessa Aesthetics to explore a differentiated laser hair removal experience. Cartessa's expert team vets and selects laser technology from the globe's top manufacturers. Motus AY is Cartessa's leading solution for laser hair removal and pigmented lesions (consistent with the Motus AX) plus a handpiece to target vascular lesions.
The most efficacious laser for hair removal has historically been the alexandrite laser but its use has been limited to lighter skin types. The Motus AX & AY eliminates the trade-off for darker skin types by employing proprietary moveo technology ("in-motion" in Italian), a handpiece that supplies energy gradually and more efficiently to the skin so both lighter and darker skin types can benefit. Moveo delivery plus a cooling sapphire tip makes the experience virtually painless.
"We are proud to be partnering with Cartessa on the Motus AY. We assessed the world's best hair removal technologies and Cartessa excelled across every metric – innovation, safety, and most important, patient outcomes," said Stephanie Bell, VP of Markets. "Our patients are already loving the Motus AY for laser hair removal, vein treatments and a number of other conditions," she added.
Individuals interested in a Motus AY treatment can book an appointment at Sona's Texas locations in Houston, Sugarland, Woodlands, Fort Worth, Frisco, Grapevine and Dallas; North Carolina practices in Raleigh, Greensboro, Huntersville and Midtown as well as Glen Allen and Midlothian in Virginia. Lastly Sona in Bethesda, Maryland and Brentwood, Tennesee will be offering the breakthrough treatment. Visit the Sona website for the full list of MotusAY locations and to learn more.
About Sona Dermatology
At Sona Dermatology, you'll find exceptional patient care with comprehensive offerings across medical and cosmetic dermatology. Our goal is to provide you the highest quality skin care led by Board certified dermatologists – all in a warm, welcoming environment. We bring the worlds of medical dermatology and aesthetic treatments together for your lifetime journey toward optimal skin health and appearance. Sona Dermatology is the trusted global leader in integrated skincare, providing patients with high value services, unsurpassed treatment efficacy, optimum appearance, and the highest priority on safety and comfort.
About Cartessa Aesthetics
Cartessa Aesthetics, LLC sources leading aesthetic medical devices for distribution to dermatologists, plastic surgeons, cosmetic physicians and medical spas. Cartessa selects the most cutting-edge technologies that offer clinically proven efficacy, patient safety, and the best possible investment for patients and professionals. Cartessa is the exclusive US and Canadian partner for Motus AX and AY (manufactured by DEKA) in North America. Motus AX and AY share the same technology for treating unwanted hair and pigment however, the AY has expanded vascular capabilities.
Cartessa is also the exclusive partner for Quanta Systems products which includes EVO and Chrome. The premier aesthetic portfolio also includes VirtueRF and PHYSIQ, Tetra CO2 with CoolPeel, PlaDuo, Subnovii Advanced Plasma Technology and Skinwave. For more information, email the company at info@cartessaaesthetics.com.