#LaserSeason is Here!
It's our favorite time of year! The Autumnal equinox is upon us, there is a crispness in the air and it's officially our favorite season. No, not football season…LASER SEASON!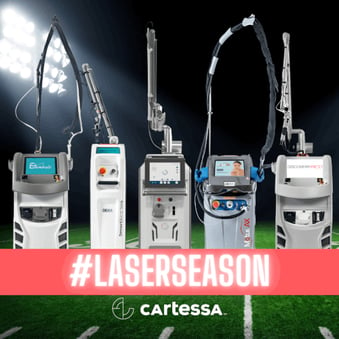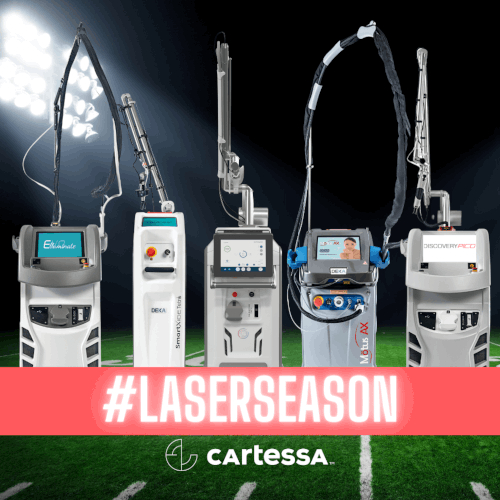 After taking the summer off from products and treatments that may create sun sensitivity, your patients are ready for those laser treatments that deliver exceptional results. Be it the desire to erase sun damage. Target unwanted pigmentation or starting hair removal sessions, NOW is the time to pick your line-up of key technologies. What will be your clutch players? What promotional plays will you roll out to your current and prospective customers?
Not sure what laser treatments are on trend and positioned to win this #laserseason? Consider this exciting line-up:
*Tetra CO2 Laser with CoolPeel
Let's start with the gold standard, CO2. Tetra CO2 is unique in that it offers highly superficial skin resurfacing treatments without the downtime, and the option for more aggressive, ablative procedures. While many couldn't bear to say goodbye to their CoolPeels for the summer, we understand that patients weren't exactly lining up for aggressive CO2 treatments. Now it's time to take full advantage of Tetra's versatility! CoolPeel is a fantastic option to eliminate sun damage, reduce fine-lines and wrinkles and improve skin tone and texture. It's become a hugely popular treatment because of lack of downtime, the resulting skin glow and ability to pair with other procedures. If your patient is looking for more dramatic results and can accept more downtime, Tetra CO2 can deliver these too.
*Chrome Lase Station with exclusive skin applications
Chrome is NEW to the Cartessa team but is already showing MVP potential. Developed by Quanta System, it is a highly advanced lase station that offers branded skin applications, SkinApps, that can be promoted to patients. Many of these applications offer a combination of wavelengths to tackle a number of common skin concerns in one treatment. The NaturaPeel SkinApp, one of five SkinApps exclusive to Chrome, includes an organic bamboo charcoal cream, 532 nm and 1064 nm laser protocol to provide your patients a skin detox, tightening and collagen stimulation combination treatment. A 30-minute treatment without any downtime, great for before a special event or skin maintenance. Décolleté, to improve skin beyond the face, Refresh, Define and Revivo, complete the SkinApp line-up exclusive to Chrome, that will truly differentiate your practice.
*MOTUS Pain free Hair Removal
Motus is the only laser hair removal available with exclusive Moveo technology, to deliver pain free hair removal treatments for ALL skin types! Patients will also enjoy more efficacious treatments, meaning fewer visits specific to hair removal.

*Discovery PICO
Want a device that is positioned to tackle tough tattoos? The Discovery PICO is a leader in the lineup against unwanted tattoos. The powerful Discovery Pico Plus is highly effective on hard-to-treat tattoo ink colors and pigments, and requires fewer treatments than typically delivered by the competition. Your patients will appreciate a truly effective tool for clearing their skin, whether to make way for new artwork, or simply clear away for good.


*PHYSIQ
The only body device that sequentially combines deep heat to target tissue and EMS to re-educate muscle, PHYSIQ results have been wowing practices and patients all summer. Patients love that they get a workout just by laying down and that they can treat muscle areas at one – "how about a booty to go with your belly treatment." With low consumable costs, PHYSIQ is surely a body machine you want to add to your line-up!
*VirtueRF Microneedling
Another device that surely kept you busy this summer, should continue to be a focus for your practice. RF Microneedling is one of the most in-demand treatments today. VirtueRF offers more ways to customize treatments than any other radiofrequency microneedling machine. Patients will see some immediate results but continued improvement over time so now is the time to educate them about starting their sessions NOW, so they are tight and toned for the holidays.
With your top technologies in position, think about how best to engage your customers and new clients. Perhaps you offer unique promotions and incentives to refer-a-friend. Need ideas? Cartessa's Practice Development consultants work with each of Cartessa's customers to understand their business and offer tools and tactics to be successful with their devices.
See Related Articles:
#LaserSeason
,
Blog
,
Body Treatment
,
Physiq
,
RF Microneedling
,
Tetra CO2
,
Coolpeel
,
Motus
,
VirtueRF
,
Motus AX
,
Tattoo Removal
,
Motus AY
,
Discovery Pico
,
Pain-Free Laser Hair Removal
,
Skin Applications
,
Insights